CARe News
Details

Written by

Lila Hayes Zubik
The invitation was cryptic. A small piece of wood with a laser-burned message that read, "June 30, 2015. Please join us for tea and wishes overlooking the city. Sunrise, Griffith Park." The only other instructions directed recipients to meet at the Griffith Observatory parking lot at dawn and "follow the lights."
Read More:
http://www.latimes.com/entertainment/arts/miranda/la-et-cam-griffith-park-teahouse-20150630-column.html#page=1
See more pictures here:
http://archinect.myarch.cn/news/gallery/130874587/1/a-guerilla-teahouse-pops-up-in-la-s-griffith-park#
---
Details

Written by

Lila Hayes Zubik
GOLETA, Calif. - With temperatures over 100 degrees, and violent winds, flames in the hills above Goleta became a blow torch, as the Painted Cave fire destroyed nearly 500 homes and businesses on June 27, 1990. 
Read More:
http://www.keyt.com/news/painted-cave-fire-25-years-later-one-life-and-nearly-500-homes-and-businesses-lost/33804010
---
Details

Written by

Lila Hayes Zubik
Colorado follows the Broad Evidence Rule for the purposes of calculation of actual cash value.
The relevant case on this topic is Nebraska Drillers v. Westchester Fire Insurance Company.(1) In this case, the insured commenced an action to recover for an alleged fire loss to quantities of supplies and equipment under a policy that provided that the measure of payment under the policy was the actual cash value of the property at the time of the loss and that the loss should be ascertained according to such actual cash value with proper deduction for depreciation. 
Read More:
http://www.propertyinsurancecoveragelaw.com/2015/05/articles/insurance/calculating-actual-cash-value-part-9-colorado/index.html
---
Details

Written by

Lila Hayes Zubik
SAN BERNARDINO >> As if four years of drought, thousands of acres of decades-old brush and more than 25,000 acres up in smoke weren't enough for entrenched fire crews, Southern California's first major wildfire of the year brought a man-made hazard to the skies that could have cost lives: Drones. 
Read More:
http://www.sbsun.com/general-news/20150625/drone-over-massive-lake-fire-couldve-killed-everybody-in-the-air-official-says
---
Details

Written by

Lila Hayes Zubik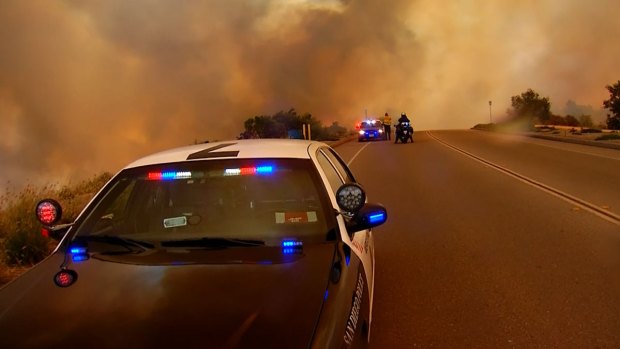 County officials used the anniversary of the May Fires of 2014 to update the public on how prepared public agencies are for a similar scenario this year. The message to residents was that the county is more prepared for wildfires than we've ever been.
Read More:
http://www.nbcsandiego.com/news/local/Fire-Officials-Brief-Public-on-May-Firestorm-Anniversary-303634001.html
---